What Is Therapeutic Yoga?
The use of gentle yogic asanas to address one of more health issues in a human being can be considered to be a therapeutic yoga definition. You can get relief from a wide variety of mental and physical issues through yoga. Different therapeutic yoga poses benefit certain conditions in a healing and curing way. The question whether there really therapeutic yoga is or if all yoga is therapeutic is still open to debate. As the ancient science of yoga is discovered by modern scientists and its benefits not only known but also understood, the difference between therapeutic yoga and yoga therapy is one of direction. It is true that all yoga is therapeutic in that it helps to serve the wellbeing of the body and mind, but therapeutic yoga refers to the directed and deliberate use of particular therapeutic yoga poses to treat particular body issues.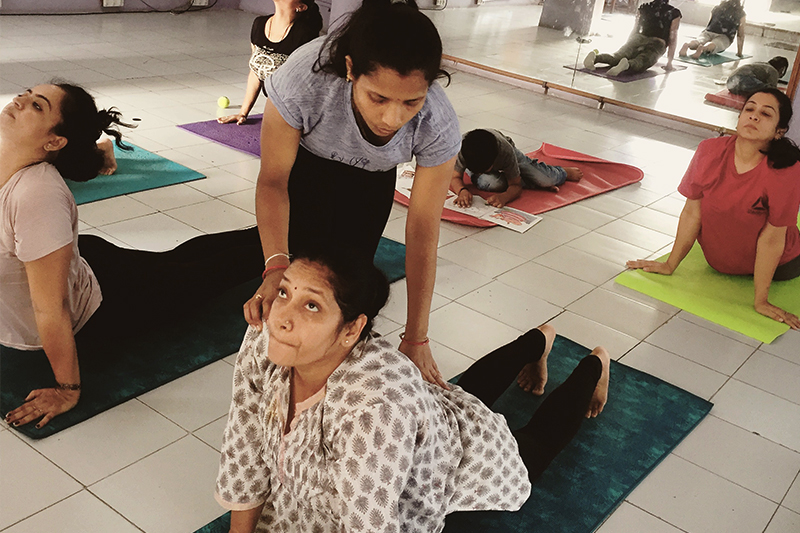 Therapeutic Yoga Benefits Proved By Science
There are a wide number of Therapeutic Yoga Benefits to both the body as well as the mind:
Helps cut down on stress
Helps get relief from anxiety
Can potentially reduce inflammation
Helps in cardiovascular health
Enhances quality of experienced life
Potentially effective at curbing depression
Positively impacts chronic pain
Gives you better sleep
Improves body balance and flexibility
Serves to improve breathing
Why Us
By now you must have realized that your physical and mental ailments might have an alternative solution than mere pills. Often a holistic treatment is the cure to get well and it might using different therapies might be more helpful. This is of course going to be determined by health professionals. But as a resident of Ahmedabad if you are looking for therapeutic yoga classes near me, then you definitely want to fix an appointment with our expert yoga trainers. With the right combination of experience and expertise they are in the best position to say how yoga can positively affect you. For the best of your mind and body, do get in touch!